Browsing articles in "Tools"
A really handly and beautiful slider by Nikhil, while he was looking for a double pinned slider. Though , he did find a few well done double pinned slider in the mootools forum, the only problem was that all these sliders did not have the selected range marker.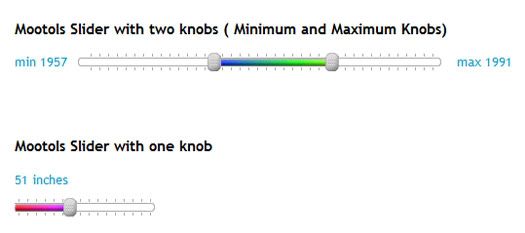 Finally! He has decided to create his own Mootools Slider With Two Knobs (Double Pinned Slider) with Range Indicator. You can easily change the look and feel of the range indicator, slider knob, the slider track by modifying the slider.css as required.
Chronoscope is an open source release of a charting and visualization platform for GWT, used as the centerpiece of Timepedia's website. Chronoscope provides a high performance, cross browser platform for visualizing possibly large and complex datasets. It supports interactive frame rates on data sets with tens of thousands of points by using multiresolution representation and incremental streaming.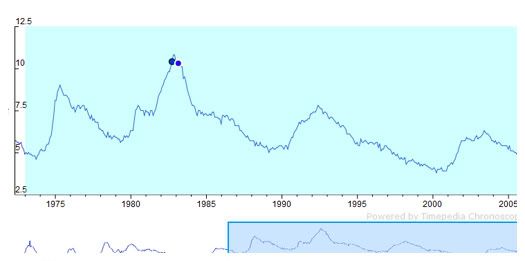 When the number of points about to be plotted exceeds a certain heuristic, Chronoscope falls back to a lower resolution representation of the dataset, which can be provided by the user, or automatically calculated by various filtering algorithms. This is similar to mip-mapping techniques commonly used in 3D graphics to reduce bandwidth and decrease aliasing. It also gives non-programmers intuitive controls over almost every aspect of the look of a visualization.
It requires Google Web Toolkit.
Website: http://timepedia.org/chronoscope/
Ajax Fancy Captcha is a jQuery plugin that helps you protect your web pages from boys and spammers. We are introducing you to a new, intuitive way of completing "verify humanity" tasks. In order to do that you are asked to drag and drop specified item into a circle.
Captcha's security level is medium, with the emphasis on nice looking and user friendly qualities while still offering reasonable protection from unwanted "guests". Basic design and its elements are easy to change and customize.
Requirement: jQuery Framework

This is a handy utility for designers looking to get the colors used in an image. This online tool requires an image or the path to image and return you the pallete of that image.

I love this tool because of it gives me options to save this Color Palette as a CSS and Photoshop Swatches File.
Important: If you like my posts, keep me active by subscribing for feeds.
Flash MP3 Player is a free application that allows you to play music on your website easy and fast. You won't need any programming skills to install or use it. Just embed it into your website and player will automatically scan a specified folder and form a playlist.
Features
Easy to Install
Highly Customizable
Automatically Forms the Play List
Remembers your last cursor position
Website: http://www.flashmp3player.org
Favicons are small 16×16 icon files that are displayed next to the URL of your site in a browser's address bar. Additionally they're often displayed next to the name of your site in a user's list of open tabs and bookmark listings making it easier for the user to quickly identify amongst other sites.
Favicon Generator lets you create your own favicons for Free via a handy online editor. This tool provides an easy way to convert any GIF, PNG or JPEG to ICO which is supported by all modern web browsers. Favicon Generator lets you upload an image and then go in and tweak the pixels.
Website: http://favicon-generator.org
typism is a web-based font editor. It is a public site where anyone can create a font for others to use and to study, to modify and to copy.
You write the description of a typeface, design the outlines of a glyph, track the development history and publish any revision in human-readable format to store locally. All it takes to run it is a browser supporting a few open standards.
Typism uses SVG and runs on Google App Engine.
Chart Chooser from Juice Analytics is an innovative tool that lets you create Excel and Powerpoint charts. It gives the option to choose the type of characteristics you wish to highlight in your data like: Comparison, Distribution, Composition, Trend, Relationship and/or Table, and it will give a filtered charts according to your selection.
After selecting a chart type, it offers Excel and Powerpoint file formats to download, open up that file into respective program and modify your chart.
Juice Analytics welcomes users to share their thoughts / ideas for new innovative charts.
The Spry framework for Ajax is a JavaScript library that provides easy-to-use yet powerful Ajax functionality that allows designers to build pages that provide a richer experience for their users. It is designed to take the complexity out of Ajax and allow designers to easily create Web 2.0 pages.
The Spry framework is a way to incorporate XML, JSON or HTML data into pages using HTML, CSS, and a minimal amount of JavaScript, without the need for refreshing the entire page.
With Spry, you can:
Build and style widgets
Implement Ajax with small JavaScript
Add transitions to almost any element on your page
Transform complex data sources into a row/column format
The Spry framework can be used by anyone who is authoring for the web in their tool of choice.
WYMeditor is an open source web-based WYSIWYM XHTML editor. WYMeditor has been created to generate perfectly structured XHTML strict code, to conform to the W3C XHTML specifications and to facilitate the need of modern applications.
With WYMeditor, the code can't be contaminated by visual informations like font styles and weights, borders, colors, …The end-user defines content meaning, which will determine its aspect by the use of style sheets. The result is easy and quick maintenance of information.
(more…)